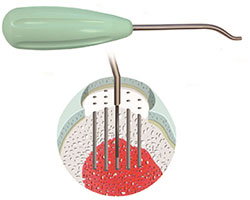 The NanoFx® (Nanofracture) offers a "Smaller, Deeper, Better" solution compared to a standard microfracture procedure.
The instruments consist of a reusable Hand Instrument and a single use disposable PleuriStik™ for performing a microfracture procedure for the treatment of small localized articular cartilage defect sites.
The 1mm PleuriStik™ disrupts less surface area than a standard microfracture technique. It penetrates down to a standardized 9mm depth to reach the targeted marrow cells, three times deeper than comparable microfracture techniques.
The NanoFx® handle is available in two types:
1 with a 15° angle and
as an A-Curve, which is specifically designed for hard to access Ankle Lesions.