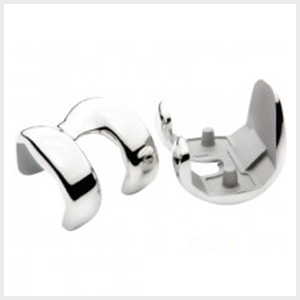 Allegra Orthopaedics' principal product, the Active Knee, is a primary total knee replacement prosthesis. It consists of both cementless & cemented options, with 18 femur sizes and 10 tibia sizes to suit a wide patient population. Meniscal inserts are available which allow the surgeon to retain or sacrifice the posterior cruciate ligament. The femoral and tibial components are manufactured from CoCrMo (ASTM F75 / ISO 5832-4) whilst the Meniscal Insert is manufactured from UHMWPE (ISO 5834-1, ISO 5834-2 and ASTM F648) The Active Knee design features include:
unique, exclusive surface finishing (Ultrapolishing) that imparts wear characteristics approaching that of ceramics;
cementless design with a sintered hydroxyapatite coating that encourages rapid bone bonding with the implant. For patients that are unsuited to a cementless implant, a cemented version is also produced;
a cruciate retaining design that, for a total knee, minimises the invasiveness of the operation and patient trauma.
The Allegra Active Knee has an excellent patient success rate. A journal article published in 2005 by the Journal of Bone and Joint Surgery (UK), prospectively reviewed 1000 patients with up to 10 year outcomes, reported excellent patient functional results and an extremely low incidence of revisions (complications).
Importantly, the Allegra Active Knee has a clinical history extending over 20 years, demonstrating excellent patient outcomes & therefore considered a thoroughly proven design.
The Allegra Active Knee has a growing number of supportive published academic papers as well as thousands of knees implanted worldwide.
Product Options And Features Include:
FDA-approved, CE-marked cemented versions
Cementless versions with hydroxyapatite and porous in-growth surfaces – CE Marked
Narrow femoral versions – the World's First "Female Knee' – implanted since 2001.
Ultra-polished surfaces