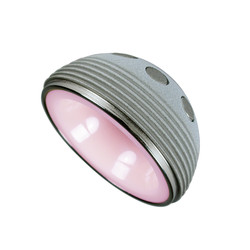 Hip acetabular cup system for cementless implantation
The CombiCup® system optimizes the interoperative process with an ergonomic instrument set and facilitated insertion von cup inlays. It achieved excellent clinical results with its increased primary stability, maximized bone conservation and good osseointegration.
Features:
Titanium alloy (Ti6Al4V) with HA coating
Press-fit fixation
Outer diameter 44-62 mm (in 2 mm gradations)
BIOLOX® delta* ceramic and X-PE** inserts
Inserts with anti-luxation shoulder (X-PE**)
Prosthesis heads 36 mm in diameter, with an outer diameter starting from 50 mm for high performance tribological pairing with bone preservation
Optional additional screw fixation
*BIOLOX® delta is a product of CeramTec GmbH, Plochingen, Germany.

**X-PE is a highly cross-linked UHMWPE.