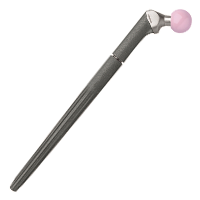 Modular, cementless and cemented prosthesis for hip joint revision
The MP® reconstruction prosthesis is designed for the replacement of loosened hip prostheses with extensive proximal femoral defects, which no longer permit implantation of standard prostheses.
The different prosthesis components form a modular system consisting of a prosthetic head, stem, tapered neck segment, spacers for equalizing leg length and an expansion bolt.
Features:
The micro porous or HX® (calcium phosphate) coated surface promotes bone ongrowth
Various modular neck components to provide an intraoperative adjustment of the anteversion and lateralisation
Prosthetic heads from cobalt-chromium-molybdenum alloy or BIOLOX® forte and BIOLOX® delta* ceramic in different diameters

*BIOLOX® forte and BIOLOX®delta are products of CeramTec GmbH, Plochingen, Germany.